It's the most wonderful time of the year in St. Pete. That's right, we're on the road to Pride! This massive event brings hundreds of thousands of visitors to the Burg to enjoy food, drinks, music, and a fabulous parade, all while celebrating equality, inclusivity and every single person that makes this city shine.
---
---
The St. Pete Pride celebration officially runs from June 21-23, featuring a live performance by Lisa Loeb. But there's so much more going on in St. Pete during the entire month of June.
Here are all of the events you cannot miss. Did we miss one? Let us know in the comments!

*Order ASAP so you can wear your gear at PRIDE 2019! Delivery before June 22 not guaranteed.
STONEWALL Uprising film screening
June 13 @ 7:00 pm
5501 28th Ave S, Gulfport
This compelling documentary examines what happened in June 1969, when New York police raided a gay bar called the Stonewall Inn. This resulted in three days of rioting by LGBTQ people who were no longer willing to abide by a punishing level of harassment and inequality. The Uprising sparked the modern day Gay Rights Movement. The film will be preceded by comments from local resident Jay Chetney, who was present during the Stonewall riots. This event is free.
https://www.facebook.com/Rays/photos/gm.2571860809510012/10156706341348429/?type=3&theater
Pride Night with the Tampa Bay Rays
June 14 @ 7:10 pm
1 Tropicana Dr., St. Petersburg
One of the most LGBTQ+ friendly sports team is right here in St. Pete! Join the team on Friday, June 14th at 7:10pm as the Rays take on the LA Angels. Purchase tickets here and use code PRIDE3 to get a limited edition rainbow hat with your ticket.each ticket includes a Rays Pride Hat and a portion of each ticket sold through this offer will benefit St Pete Pride.
Lower Box Tickets are $30 (Up to a $48 Value). Deadline to purchase is Wednesday, June 5th.
Bear Pride Blacklight Glow Party
June 14 @ 9:30 pm
13284 66th St N, Largo
The Sexy Bears of Quench will be out for Bear Pride Blacklight Glow Party at Quench Lounge on Friday June 14th, starting at 9:30. Drink Specials after 9:00PM: $3 Quench Draft, $3.75 Michelob Ultra Draft, $4 Kamikaze Shots, After 1:00AM: $3 Drinks, Half-Price Happy Hour Drinks from Open until 9:00PM
Mommie Queerest- SATP Benefit
June 17 and 24 @ 7:00 PM
Don't miss Suncoast AIDS Theatre Project & MattocS Productions' wacky send-up of one of cinema's most notorious B-movies. Mommie Queerest takes the classic film and Hollywood Mom-hating memoir and gleefully skewers it for two shows only during St. Pete Pride. Matthew McGee (award-winning actor and drag artist) and Scott Daniel (award-winning actor and wig designer) duke it out as Joan and Christina for a hilarious and campy evening benefitting Metro Inclusive Health. Matthew and Scott are joined by a who's who of local theatre artists and entertainers including Susan Haldeman, Steve Garland, Jonelle Meyer, Joe Parra, Carolyn Zaput, Emanuel Carrero, Larry Alexander, Roxanne Fay and many more. Filled with classic gags and audience participation. Mommie Queerest is not to be missed. There are both VIP and General Admission tickets available. General Admission can be purchased for $20 here or by calling 727-823-PLAY. Proceeds will go to benefit Metro Wellness.

*Order ASAP so you can wear your gear at PRIDE 2019! Delivery before June 22 not guaranteed.
St Pete Pride Kick-off Party
June 19 @ 7:00 pm – 10:00 pm
5300 Gulf Blvd., St Pete Beach
We are kicking off St. Pete Pride along beautiful St. Pete Beach at the Sirata Resort on Wednesday, right before our three-day weekend event. Fresh off a $10 million renovation, the 13-acre resort provides a unique private beach venue. The new Beachwalk allows guests to enjoy the tropical landscape and the sunset while strolling from one end of the resort to the other right along the beach. Become immersed in the coastal, casual redesign, new pool and lounge areas, private cabanas and lanais, sea-inspired murals and much more. The Sirata offers the perfect combination of sweeping views of nature while maintaining an urban vibe, making this Pride Party an event like no other during the weekend. This is a free event.
Tampa Bay Pride Worship Service
June 20 @ 6:15 pm
Join a collection of faith-based people and organizations as we celebrate the Pride Weekend through our worship service. Our theme is Looking Back, Loving Forward. Collection to benefit our Transgender community.
PRIDE Weekend Kick-Off with Royal Palm Market & Intermezzo Coffee + Cocktails
June 20 @ 6:00pm–11:00pm
1111 Central Ave, St. Petersburg
Intermezzo and Royal Palm Market are hosting a PRIDE WEEKEND KICK OFF for one of the largest LGBT events in the nation!  The festivities begin on Thursday, June 20 during the Royal Palm Night Market from 6-10pm. A wide swath of LGBTQ+ vendors will be in attendance showcasing their handmade, local goods. You can shop for rainbow-themed jewelry, pottery, artwork, burnt wood, vintage clothes, and indulgent snacks all under the stars in St. Pete. Guests at the pre-Pride event will have a chance to dunk a queen with all proceeds benefiting Metro Inclusive Health. Drag show begins at 8pm. Read more about the event here.
Stonewall St. Pete Pride Reception
June 20 @ 7:00 pm – 9:00 pm
255 Beach Dr NE, St. Petersburg
What started out as an event for friends who enjoy the arts has turned into the must-attend reception during the week of Pride. Hosted and sponsored by the Museum of Fine Arts in St. Petersburg, the Stonewall Reception by St. Pete Pride will feature an elegant fashion show, open full bar and light hors d' oeuvres. "The Art Of Fashion" is anything but a common fashion show. Our vision is to bring together the unique and creative influences of a diverse blend of area designers, stylists, models, and creators, to show the vibrant artistry of fashion. Designers, Urban Native by Erik Wise, Elizabeth Carson, Racker Audrey, Pat McGhee, along with stylist Ricc Rollins from The Style Lab, combine to deliver you glamour, resort chic, the Avant-garde and a splash of individuality. General Admission Tickets are $30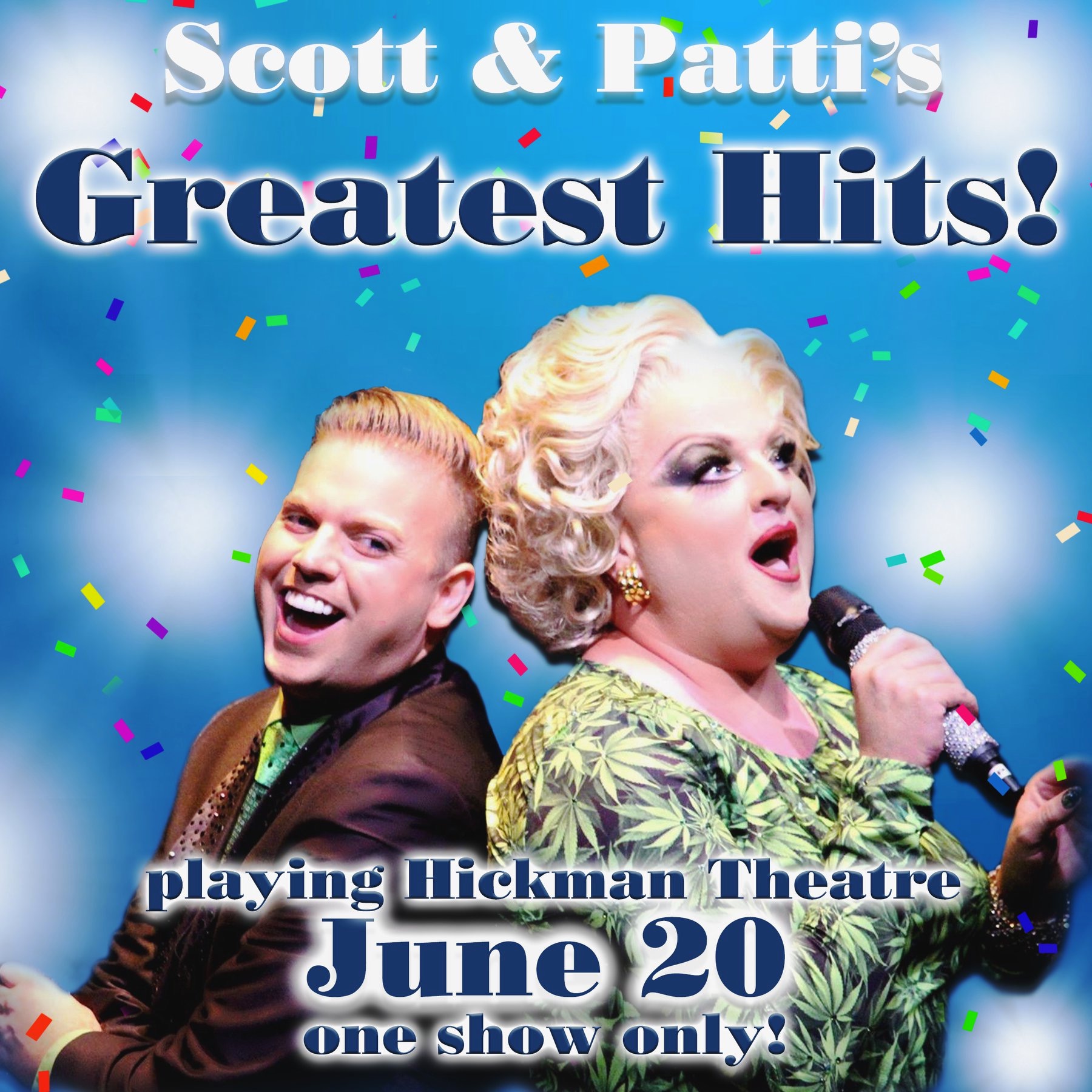 The Scott & Patti Show Comes to Gulfport! (Scott & Patti's Greatest Hits)
June 20 @7:00 pm
5501 27th Ave S, Gulfport
Mother/Son lounge act Scott & Patti (Scott Daniel & Matthew McGee) bring their mix of camp, improvisation, showmanship, and glittering costumes to an unforgettable show featuring hits, standards, and show tunes of today and yesterday. The Scott & Patti show has played to sold-out crowds across the country. Audiences leave with their sides aching from laughter and a classic pop song stuck in their heads. This special Gulfport appearance at the Catherine Hickman Theater is a fundraiser for the LGBTQ Resource Center. Get tickets here.
https://www.facebook.com/ChihulyStPete/photos/gm.2102965153133185/2013278462134075/?type=3&theater
Drag Queen Docent Tour
June 21 @ 4:00 pm
720 Central Ave, St. Petersburg
Join Bak Lava at the Chihuly Collection for a colorful and unique look at the stunning, permanent collection of artwork by world-renowned artist Dale Chihuly. Join her for an educational and fun-filled tour, proceeds benefitting St Pete Pride organization. Bak Lava is a local comedy queen and enjoys being a part of the arts in various capacities. Bak Lava was born in California at the Fresno Art Museum's Trashique Gala as a runway model. Since then she has performed at clubs, bridal showers and hosted Drag Queen yoga events throughout the country.
Lisa Loeb, SP2 Concert
June 21 @ 6:00 pm – 10:00 pm
400 Bayshore Dr NE, St. Petersburg
The SP2 Concert will be held Friday, June 21 in North Straub Park. Gates open at 6:00 pm with the first act going on at 7:00 pm. The SP2 Concert hosted by Alexis Mateo is a fundraising event to assist in funding various Tampa Bay community organizations. A mix of various bands and local singers will warm up the crowd as attendees cool down with their choice of drink. Beverage sales benefit the St. Pete Pride Community Grants Program. This is a FREE event featuring Lisa Loeb, VIP Tickets are available. The $50 VIP ticket includes front of stage access for the entire concert and two premium drinks at bars.
St. Pete Pride Weekend with Hunger Thirst Group
Jun 21 at 7 PM – Jun 23 at 12am
330 1st Ave S
We're showing ALL the love for Pride Weekend in St. Pete! Join us on #1stAveSouth for music by Certified Fresh DJs, drink specials, ice luge & more! 🏳️‍🌈❤️10% of Saturday night sales are being donated to Metro Inclusive Health, so celebrate with a purpose!  DRINK SPECIALS: Absolut cocktails $6, Malibu Cocktails $6, Absolut Li-Me Down Shots $5, Ice Luge + Absolut promos Saturday at 9PM
Street Food and Craft Beer Festival
June 21 @ 6:00 pm – 11:00 pm
480 Bayshore Dr SE, St. Petersburg
Gulf to Bay Food Truck Association hosts the 2nd Annual Street Food & Craft Beer Festival on Friday, June 21! A fun foodie filled evening with over 25 savory & sweet Food Trucks and live music by local favorite, TL Jentgens. Beer & wine for purchase. We're always family and pet-friendly. Seating is available & chairs, blankets are welcome. Cash & credit cards accepted. This event is free.
Pride WOD at CrossFit St. Pete
June 21 @ 6:30 pm – 8:00 pm
3120 44th Ave N, St. Petersburg
CrossFit St. Pete is hosting PRIDE WOD on Friday, June 21st. This is a CrossFit event that is wrapped up by social hour sponsored by 3 Daughters Brewing. All registration money will benefit Family Resources, one of the only non-profits primarily focused on providing support for LGBT Homeless Youth in Pinellas County. This event is $20
4th Annual Pride Shabbat
June 21 @ 6:30 pm – 7:30 pm
The fourth annual Pride Shabbat at Congregation B'nai Israel of St. Petersburg. A welcoming Shabbat service embracing all traditions and members of the community. The service will be followed by a festive cocktail oneg. This is a free event.
3rd Annual One Love Prom In Wonderland
June 21 @ 9:00 pm – 2:00 am
4601 34th St S, St. Petersburg
Head on down the rabbit hole for an unforgettable evening kicking off Pride weekend! Everyone deserves to experience prom and some LGBTQ+ individuals may have never had the opportunity to attend or bring the person they wanted to this special occasion! So we offer you Prom in Wonderland! Here's another chance to take that special someone or go stag with your friends and potentially meet the person of your dreams! This is an LGBTQ+ inclusive event with a Mad Hatters Theme!
https://www.facebook.com/EventbriteforOrganizers/photos/gm.831105940574476/10161678272070261/?type=3&theater
Crossfit9 Pride WOD 2019
June 22 @ 7:30am–11:30am
2727 6th Ave S, St. Pete, FL
An annual celebration returns to CrossFit9 during St. Pete Pride weekend. We're celebrating the diversity of our beloved community in all its glory. If you've got rainbow workout gear, come decked out! #CrossFit class times at 7:30 AM and 9:00 AM. 9HIIT at 10:15 AM (Lighter weight and no barbells, so it's beginner-friendly! 100% of your $15+ entry will benefit Metro Inclusive Health, providing inclusive healthcare in the Tampa Bay area for over 25 years. Guests, please show up early so we can sign you in and get to the good stuff! This event is $20
https://www.facebook.com/stpetepride/photos/gm.348595552667927/10155988116798239/?type=3&theater

Tech Data St Pete Pride Parade
June 22 @ 2:00 pm – 11:00 pm
Bayshore Dr, St. Pete
The Saturday Party begins at 2pm, with the Parade kicking off at 7:15pm. Imagine 5,000 people swishing and sauntering along Downtown St Pete's Bayshore Dr in a dazzling array of sequins, beads, leathers, and feathers to celebrate the power and beauty of diversity, with more than 200,000 people cheering them on. The 17th St Pete Pride Parade promises to continue to show the state all the beautiful colors of our diverse community, and be a fabulous opportunity for unbridled self-expression and love. This event is free.
2019 St Pete Pride TransPride March
June 22 @ 6:30 pm – 7:00 pm
The St. Pete Pride TransPride March hopes to inspire all trans and gender non-conforming people to realize a world where everyone is safe, loved and empowered. We invite the entire community to come out and celebrate our Trans family by being a part of St. Pete Pride. Participation is FREE, and the first 1000 registrants will receive a 2019 St Pete Pride TransPride March T-Shirt at check-in the day of the March. This event is free.
https://www.facebook.com/QuenchLounge/photos/gm.280801979471065/2124537224326506/?type=3&theater
St Pete Pride After Party
June 22 @ 9:00 pm
13284 66th St N, Largo
After the St. Pete Pride Parade on Saturday, June 22nd, visit Quench Lounge for St. Pete Pride After Party. Mingle with the Men of Quench and the Diva Show! Quench After Party is a St. Pete Pride Recognized Event! Drink Specials after 9pm: $3 Quench Drafts, $4 Fireball Shots; After 1am: $3 Drinks; Half-Price Happy Hour Drinks from Open until 9pm
St. Pete Pride Festival
June 23 @ 11:00 am – 5:00 pm
2227 Central Avenue, St. Petersburg
The St. Pete Pride Festival will be held Sunday, June 23, 2019, beginning at 11am and ending at 5pm. The St. Pete Pride Street Festival will be the largest community event of the season as festival goers come together to make history while enjoying a day of live performances and entertainment, community booths, art, and fantastic food in paradise. We ensure that there's something for everyone, including you.
Best Little Whorehouse on Central
June 23 @ 12:00 pm – 3:00 pm
Enjoy the cast from Punky's Bar & Grill as we spoof the Best Little Whorehouse in Texas with the BEST LITTLE WHOREHOUSE ON CENTRAL. Led by Victoria Michaels, Watermark Wave Award Winner and Ms. Broken Slut 2019, the cast will be putting on a romp roaring fun show. Food and drink specials!
https://www.facebook.com/MetroTampaBay/photos/gm.2229848363738768/2294102820635649/?type=3&theater

From Stonewall to Pulse: A Community Discussion
June 26 @ 6:30pm–8:30pm
Metro Inclusive Health, 3251 3rd Ave N
Metro Inclusive Health and The Dru Project are hosting "From Stonewall to Pulse" to recognize the 50th anniversary of the Stonewall Riots, a series of spontaneous, violent demonstrations by members of the LGBTQ+ community against a police raid that took place in the early morning hours of June 28, 1969, at the Stonewall Inn in the Greenwich Village neighborhood of Manhattan, New York City. Join us as we honor the Stonewall generation, hear stories from survivors of Pulse, and build an intergenerational network of LGBTQ+ people and allies. Panelists will include individuals who experienced the 1960's Stonewall Riots, and the 2016 Pulse Massacre. After the panelists speak, community members are invited to join the discussion! Every story and experience matters. What's yours? Please register for this FREE event by clicking here.
BranchOut!
June 27 @ 7:00 pm
5501 28th Ave S, Gulfport
Time for a night of music and celebration as BranchOut! presents its first-ever Gulfport LGBTQ Scholarship to a deserving local student. They will also celebrate the establishment of the LGBTQ Resource Center as an independent 501©3 non-profit organization. Enjoy complimentary wine and appetizers, as well as live music by powerhouse vocalist/singer/songwriter/guitarist and Resource Center Board Member, Brittany Baldwin. This event is free.

*Order ASAP so you can wear your gear at PRIDE 2019! Delivery before June 22 not guaranteed.
Pride Night with the Rowdies
June 29 @ 7:30 pm
230 1st St S, St. Petersburg
Bring all your friends and show your pride at the Tampa Bay Rowdies Pride Night on Saturday 6/29 against the Ottawa Fury. Party in the tailgate area before the game and enjoy downtown afterward. Make sure to use the code PRIDE3 at checkout so a donation is made from each ticket sold to St. Pete Pride! Click here for more info.
Pride Night with the Clearwater Threshers
July 27 @ 6:30 pm
800 Phillies Dr, Clearwater
Our inaugural Pride Night is taking place on Saturday, July 27th. Enjoy special graphics, colors, and festivities that celebrate our community's diversity. A special, colorful, Fireworks display will follow this event!