The Burg is one of the most pet-friendly cities in the U.S. Our first and last piece of evidence is Fido's Food Truck, a bright blue mobile bakery just for pooches. Fido's made a splash in the Sunshine City in 2018 and has since become a staple in most pet-owners treat regimen.
Fido's sells their all-natural treats directly from the truck, and online in case you can't make it out to an event. More interesting are their custom treats, which you can find at local businesses like Pineapple Espresso, Grassroots Kava, and Flying Boat Brewing.
The custom dog treat molds basically turn your dog into a little dessert celebrity. They can make treats that look just like your pup. You send them your favorite puppy picture, and they'll design it just for you. They may almost be too cute to eat, but we imagine your pup won't be too picky.
Owner Ashlea O'Connor even whips up exquisite bacon/coconut pawty cakes, and little woofles, made with rolled oats, banana, egg, peanut butter, and coconut oil.
Listen, we are all about treating yourself, but we also know sometimes you have to treat your pooch. If you're going to do it anywhere, do it at a locally owned dog treat food truck. Fido's pops up at events all over Tampa Bay. Follow them on Facebook and Instagram to see where the truck will be next.
You can also visit Fido's online shop for special pawty packages to properly spoil your pup on their birthday.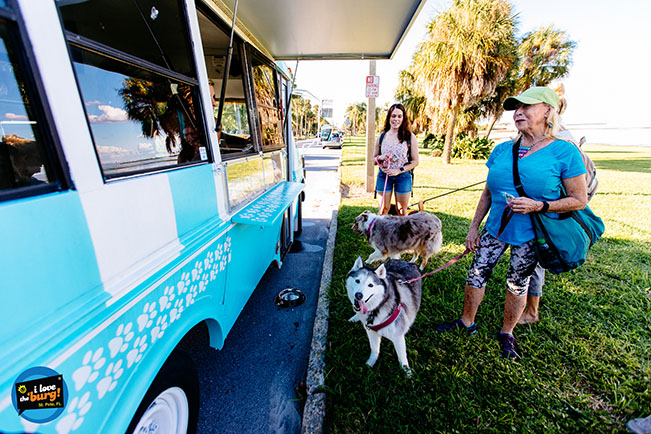 Looking for more to do with Fido? Check out our list of the dog-friendly beaches in the Burg. Need more adorable pups in your life? Here are the best dog Instagram accounts to follow in Tampa Bay.