Whether you avoid gluten due to health conditions like Celiac or your body is just gluten sensitive, finding safe gluten-free options can be a challenge. We're making it easier to dine out in the Burg while keeping the gluten away.
As always, be sure to let your server know of any allergies and food sensitivities you might have. Here are some our favorite spots in St. Pete with gluten-free options:
Ciccio Cali
Ciccio Cali, 190 37th Ave N, St. Petersburg
Ciccio Cali St. Pete is serving up gluten-free California-inspired bowls. They have a variety of menu items that are gluten-free, hearty, healthy, and satisfying. We highly recommend ordering The Fitness Bowl (grilled blackened chicken, charred broccolini, lime vinaigrette and a side of hot sauce) on spaghetti squash or trying out one of their tasty GF pizza crusts.


Craft Kafe
Craft Kafe, 6653 Central Ave, St. Petersburg and 200 Central Ave, St. Petersburg 
Craft's mission is for customers to have the ultimate gluten-free bakery and small-bites dining experience. With the multitude of gluten-free options, it's the perfect place to enjoy a coffee and chill environment without having to worry. And now they have two locations in St. Pete where they're serving up their freshly baked pastries, quiches, cakes and more.
Fresh Kitchen
Fresh Kitchen, 4447 4th St N #2, St. Petersburg
We can't have a gluten-free dining guide and leave out Fresh Kitchen because their entire menu is 100% gluten-free! Fresh Kitchen is a health food restaurant that has changed the fast-food game. With an efficient assembly line style set-up, they give you the speed of a fast-food restaurant without all the negative health issues of traditional fast-food. While you are in line, be sure to pick up a pack of their chocolate zucchini brownies and a Strawberry Chiwee juice to go with your meal.
Love Food Central
Love Food Central, 2057 Central Ave, St. Petersburg
Love Food Central is all about having their food be vegan and gluten-free as well as made with organic, local, and non-GMO ingredients. This hip cafe is also home to two of our favorite veggie-friendly sandwiches – The Pulled BBQ Sandwich (starring a savory jackfruit and sourdough bread from Sami's Bakery) and The Ridiculous Burger (homemade beet and black bean burger patty topped with a vegan cheese sauce and sautéed mushrooms and onions).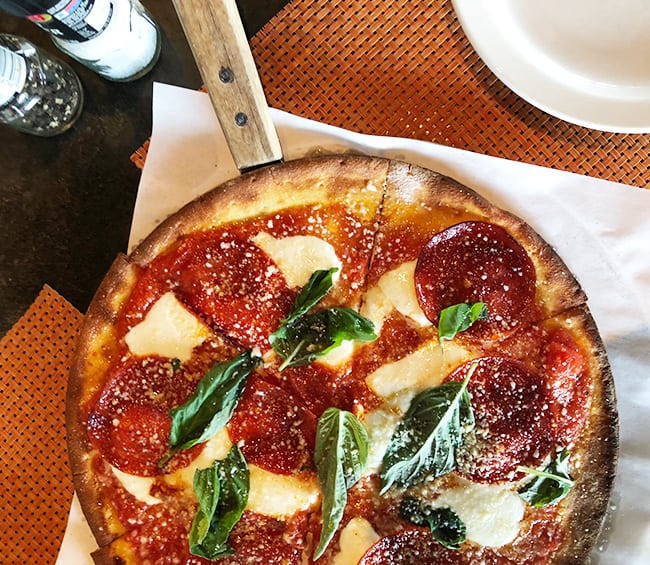 Noble Crust
Noble Crust, 8300 4th St. N, St. Petersburg 
Noble Crust uses seasonal southern ingredients to create an Italian meal that you won't want to miss. We recommend their infamous Noble Pig pizza (pepperoni, sweet fennel sausage, spicy soppressata, pickled peppers, caramelized onions, tomato sauce, fontina, parmesan and an egg all on top of a GF crust). If you don't want to go so bold, the Margherita pizza on a GF crust is always a classic.
Photo by Ysanne Taylor for I Love the Burg
Rawk Star Cafe
Rawk Star Cafe, 740 Central Ave
Rawk Star Cafe just opened a second location is right next to The Chihuly Museum and the Publix downtown. Their menu is fully vegan and completely free of wheat, gluten, soy, dairy, eggs, seafood and fish. Our go to order is an Orange Screamsicle smoothie with the Raw Tacos. Their guacamole is to die for!
Karma Juice Bar and Eatery
Karma Juice Bar + Eatery, 209 1st St NE, St. Petersburg
While Karma is well known for their vibrant smoothies, juices, and açai bowls, it also has a few hidden extra GF gems up their sleeves. Their salads are not only delicious and fresh, the portion size on the bowls is more than satisfying! The Avocado Mint Salad and the Asian Chicken Salad (uses Tamari instead of soy sauce in the ginger dressing) are our two must-haves. They also have GF bread if you have an avocado toast craving you need to fill.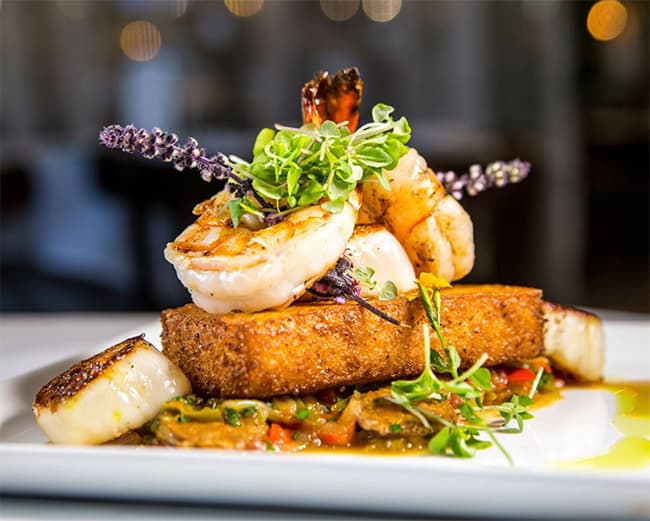 Cassis
Cassis, 170 Beach Drive, St. Petersburg   
The American Brasserie, located on Beach Drive, offers a wide selection of GF options on each of their menus. Dropping in for Brunch? We love to order the Meat Lovers Omelet with a side of the Blanc & Noir fruit salad. If you're feeling fancy, their dinner menu has a Jumbo Prawns & Scallops dish that is truly divine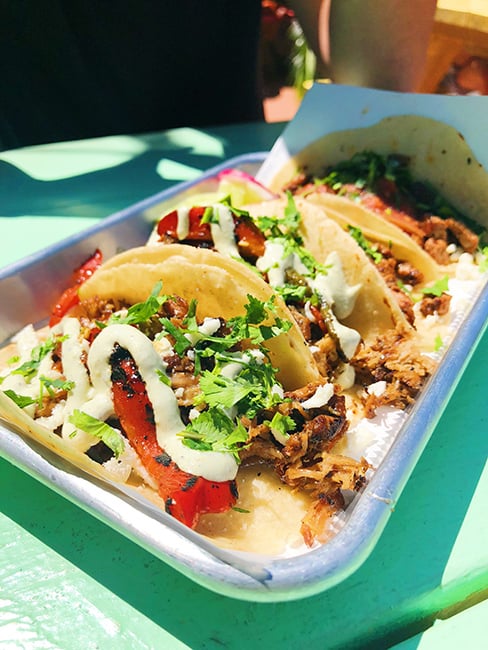 Casita Taqueria
Casita Taqueria, 2663 Central Ave, St. Petersburg and 2701 4th St N, St. Petersburg
A staple in the Burg community, Casita Taqueria is one of the easiest places for a GF sensitive person to eat. Corn tortillas serve as the base of each of their tasty tacos and almost all of their meats are gluten-free. We always go big or go home with a tray of four delicious tacos.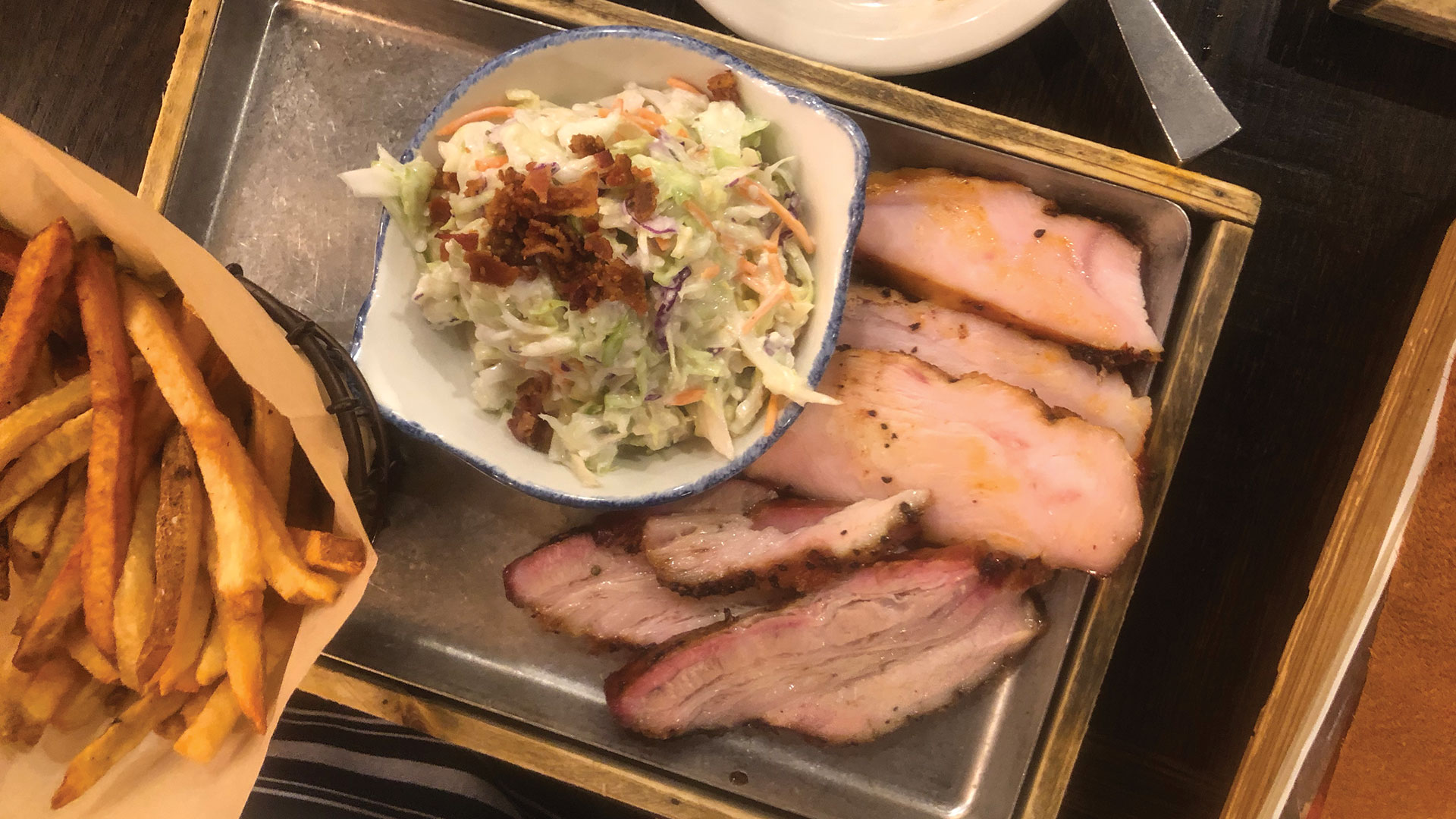 Dr. BBQ
Dr. BBQ, 1101 1st Ave S, St. Petersburg
Our new favorite gluten-friendly restaurant is Dr. BBQ. All of their meats are gluten-friendly and everything that you can eat is clearly labelled right on their menu (20+ items!). We recommend starting with the kimchi fries (Crispy, hand-cut fries topped with locally-sourced caramelized kimchi, house-made Korean BBQ sauce, lime crema and green onions) and wrapping up with a Brazilian Pineapple (half-pineapple marinated and spit-roasted with a brown sugar-cinnamon rum glaze).