The sun was shining on Academy Prep this week. While many schools are already out for the summer, Academy Prep was cutting the ribbon on a brand new outdoor center for education. Introducing the learning garden. The project is complete with a giant mural by local artist Zulupainter.
One of the main goals of the garden is to teach both students and parents how to grow their own healthy organic produce. It's also the kind of hands-on learning that can activate a student's imagination and drive.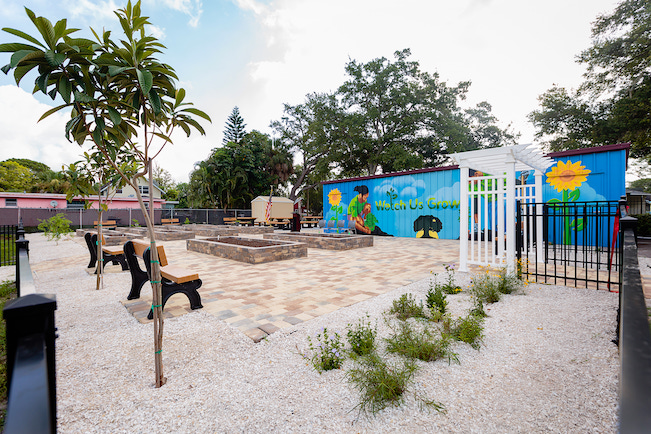 An official opening ceremony with Mayor Kriseman and other prominent members of the St. Pete community underscored the significance of the project. Now all that needs to be done is some serious gardening.
This project came to fruition through the efforts of the Leadership St. Pete Class of 2019. Meiko Seymour, a member of the LSP Class of 2019 and Executive Pastor at Pinellas Community
Church, delivered the morning invocation and served as the event emcee.
Academy Prep is a private middle school in South St. Pete that was founded in 1997. 95% of Academy Prep's graduates are currently in high school, college, or have already begun successful careers, according to the school's website.
Academy Prep currently serves both boys and girls in grades 5 through 8. Want to take a tour or visit the garden? You can set up visits by emailing Lacey Miller, Director of Development, at [email protected].
Academy Prep, 2301 22nd Avenue South.
EDITOR'S NOTE: The article has been updated to reflect that the Leadership St. Pete Class of 2019 helped make this project possible.