St. Pete is full of sensational pop ups, so there's really no excuse for a mediocre party. These local concepts are unique, passionate and absolutely game changers for your next backyard bbq or private events.
These 7 Burg business prove there is no end to this area's creativity and ingenuity. Now if you'll excuse us, we're grabbing a drink at the mobile cocktail bar.
https://www.instagram.com/p/BuJibIJhd3P/
1. Teer Cart
Listen, it's summer year-round in St. Pete, and bless out hearts sometimes all we want is a tall glass of tea. Yes. we're looking for a grade or two above Lipton. The Teer Cart offers all that and then some.
Their cold brew ice tea comes in a variety of refreshing flavors, like rose water, cardamom, lemon, snap pea cordial and honey. It's gorgeous, simple and perfectly suited for a St. Pete soiree.
https://www.instagram.com/p/BughUksAhRY/
2. Posies Flower Truck
This pop-up is the cutest truck, you just can't help but smile when you see it. And Stephanie, the owner, is just as cute, wanting nothing more than to spread some love and cheer around the Tampa Bay area.
She says that this town needed a vintage flower shop on wheels and she was determined to make it happen. The truck is always filled with buckets with unique blooms that you can't find at the grocery. Look for Posies at local events and pop-up venues or hit them up for a personal delivery or photoshoot.
https://www.facebook.com/ilovetheburg/videos/1028889500616432/
3. Clara Rose Ice Cream
Clara Rose Ice Cream Truck serves premium parlor style ice cream made by The Chocolate Shoppe. Waffle cones, cake cones & fresh baked cookies for ice cream sandwiches. They have tried to set themselves apart from traditional ice cream trucks by providing more than just ice cream.
They are an experience, the talk of the party, a photo opportunity, and something everyone talks about for years to come. They do birthday parties, corporate events, weddings, and other special occasions.
https://www.instagram.com/p/BwE6V6_A6bJ/
4. Sweet Shot Photo
This cute photo bus is affectionately called Frankie. Frankie is a foxy 1976 Volkswagen Transporter Bus transformed into a trendy modern-day mobile photo booth that will bring a dreamy, nostalgic vibe to any event.
A one-of-a-kind experience where vintage meets modern with a unique twist on the classic photo booth that you and your guests will love.  Grab a prop, a few friends, kick-back and strike a pose. Although the bus has a sweet, vintage feel, the equipment used to capture your photos is nothing but state of the art.
https://www.instagram.com/p/Bxp0UBpAOK7/
5. Fido's Food Truck
Fido's Food Truck is St. Pete's first mobile dog treat truck, and it's paws-itively amazing! While you can grab these fresh baked treats at Pineapple Espresso, Fido is also driving all over Tampa Bay feeding heckin' good dogs.
This fantastic food truck is all about grain-free treats. Your four-legged friend will have a hard time resisting the cheesy bacon bones, made with wholesome ingredients like real cheddar cheese, flaxseeds, quinoa, and natural bacon flavor.
https://www.instagram.com/p/BsjfEBGAelE/
6.  Hello Darlin' Records
This is a record store housed in a 1972 VW camper, and we are obsessed with it. Hello Darlin' is the home of vintage vinyl and ephemera.
Listen, no matter how good your latest Spotify playlist is, it's got nothing on the tunes and energy that Hello Darlin' brings to each and every event. Also, it's an amazing experience to be introduced to new music you may never have sought out otherwise.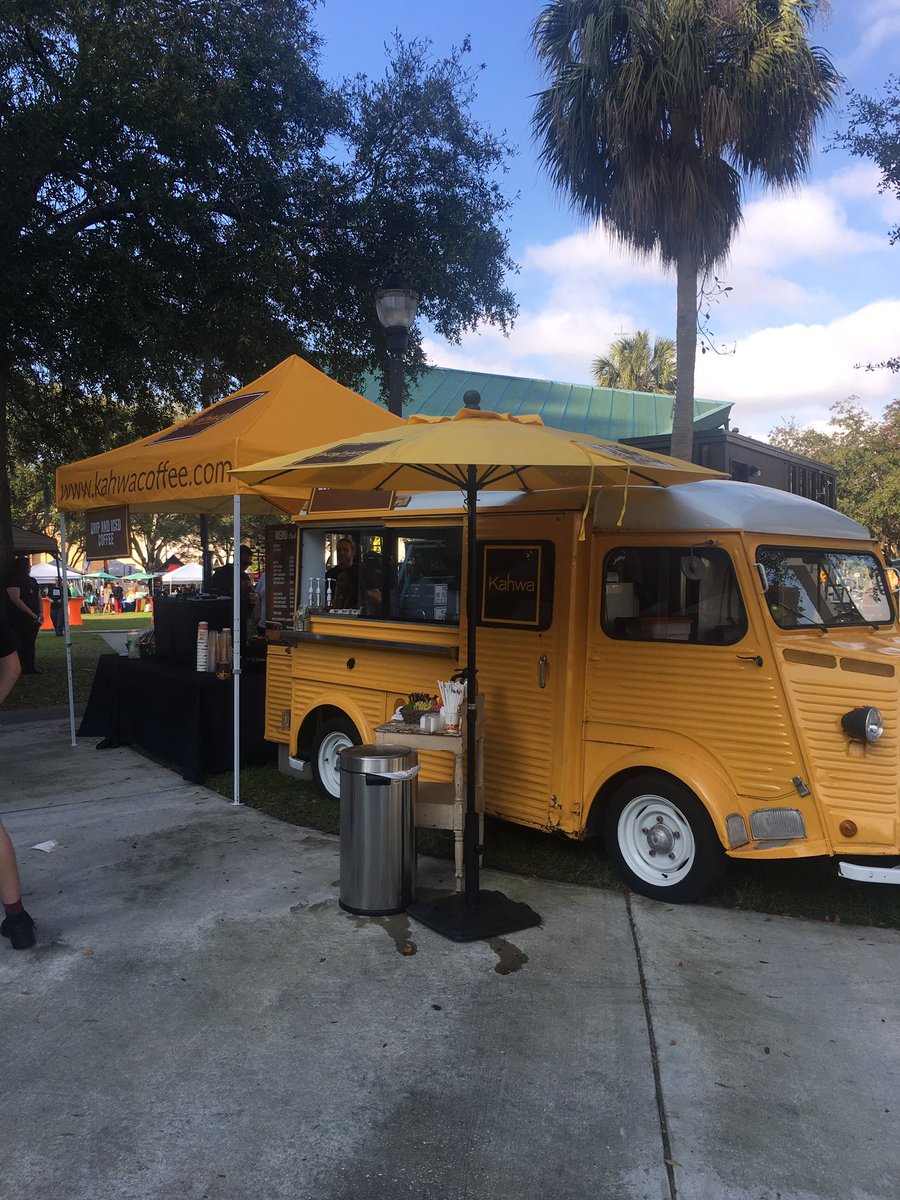 7. Kahwagon
In an homage to his French heritage, Owner Raphael Perrier retrofitted a 1969 Citroen van and transformed it into the "KahWagon" mobile coffee shop. The KahWagon roams Tampa Bay, introducing the community to Kahwa Coffee brews at festivals, sporting events and private shindigs.
https://www.instagram.com/p/Bw-a9YoAdXP/
8. Nah Dogs
Vegan hot dogs are a thing and they are glorious. Everything on the menu is 100% vegan and certainly super affordable. Jeff and Jenny Howe made sure that everything on the menu ranges from $5-$10.
Menu items include the Yo Soy Dog made with street corn salsa, cheese sauce, cilantro, jalapeno and crush tortilla chips and a more stripped down dog, the Civilian, features ketchup, mustard, onions and relish.
Contact them to serve at your next party or event!
https://www.instagram.com/p/Bxd_jnrAd4b/
9. Sipping Nomads
Sipping Nomads is a full-service mobile bar serving events all over Tampa Bay.
Whether you're in the mood for gin, champagne, rosé or whiskey, Sipping Nomads has your spirit covered. The mobile drink cart made its official debut back in February at Urban Comfort in the Grand Central District.
We LOVE a food truck, but a mobile craft cocktail joint is one of the best concepts on wheels at the moment.